BARE BONES INDIE SCRIBE 2016

Now to be known as James Christopher's Bare Bones Indie Scribe Award.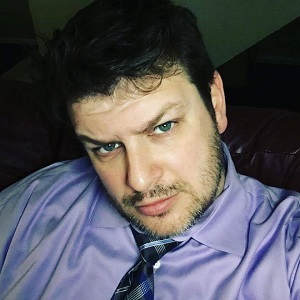 Writer/director James Christopher is one of the most prolific screenwriters to come out of Indie film Mecca Austin Texas. Since graduating from film school at the University of Texas at Austin, he's written over 20 feature screenplays that have placed and won in such prestigious film festivals as the Slamdance Film Festival and the Action on Film Festival.

He's produced and directed 14 features through his company Twitchy Dolphin Flix. Through those films, he's played hundreds of film festivals and won almost as many awards. He's played festivals all over the world, including the Academy award qualifying Austin Film Festival. In 2013, he was named the Indie Auteur of the Year for his film Abram's Hand, named one of the top indie horror films of 2013. In addition, he is the writer of the fan adored web series Pete Winning and the Pirates. James had two features at this year's Bare Bones Film Festival: DisAssociationVille and Quad X: The Porn Movie Massacracre.

In the 2017 festival he is screening his romance-dramedy THE LAST BEAUTIFUL GIRL nominated for several awards for Actors and picture. He is also screening his student's music documentary FLY (The Making of Beneath the Wings) and Room 704.

James is a true believer in the indie film movement. He believes in the integrity of an unencumbered story and putting your heart into what appears on screen. For this reason, he founded the Austin Revolution Film Festival, one of the fastest growing indie film festivals in the world. He's a proud bonehead and devotee to the Barebones model that Shiron and Oscar Ray espouse.

When not working on movies, he's at home with his wife Jessica and their two German Shepherds, Colt and Lord Vader. He watches movies and loves to debate over which Bond was the best or why the Star Wars prequels are better served as coasters.